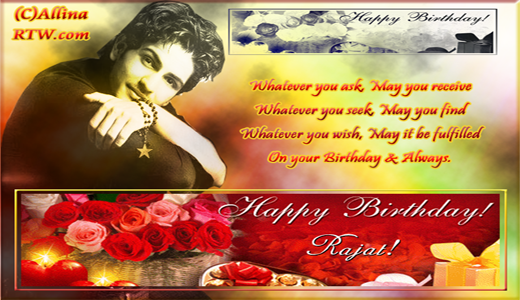 July 19th- Its indeed the biggest day of the year for all R'ians. This is the very day when 19 years ago, their Superstar Rajat Tokas was born.  Yes its 19th July today, the Birthday of our very dear Star Rajat Tokas.
On this very special day RajatTokasWorld Family wishes Rajat a very joyous birthday. We wish Rajat all the success and happiness in coming years.
More of love, more of smiles !
May th angel always stay beside !!
More the success, more of heights !
May taller your stand than the sky !!
More of health, more of life !
May you live years and years infinite !!
What else can we gift to the "Gift" of our lives !
A bouquet of love and wishes! From your FANS' side !!
-Poem by RTW MEMBER Tuhina
Everyone is welcome to join in for celebrations at Rajat Ka Darbar .
Please join us there to celebrate this great occasion. We Wish Rajat a VERY HAPPY BIRTHDAY.