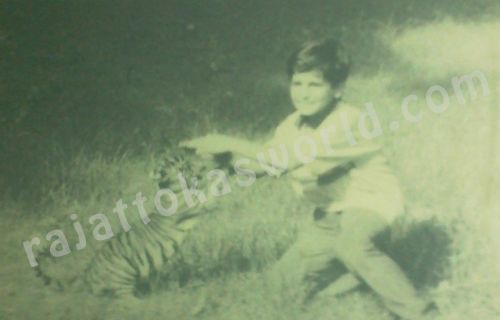 The world has witnessed Rajat Tokas performing mind boggling stunts in Prithviraj Chauhan and Dharamveer. Many a times, Rajat had been injured severely while performing these stunts. But neither did Rajat look back nor did he stop performing breath taking and flabbergasting stunts. The reason for this traces its existence in Rajat's childhood. Rajat's Parents inform Rajat Tokas World that Rajat was this brave since childhood. He was just eight years old, when he fearlessly got himself clicked with a cub. Not only this, Rajat's father Ramvir Uncle informs Rajat Tokas World that, Rajat used to ride horses since he was just 10-11 years old.
Rajat Tokas World, the Official Rajat Tokas Fansite managed to get Rajat's childhood pic in which he is sitting with a cub. Check the post out to explore more… Once you see the pic you too will agree on the Topic's Title and say "Hud Dabang Dabang" for Rajat..
Keep checking Rajat Tokas World for more of your favorite star Rajat Tokas.
Love to know more about Rajat? Discuss anything and everything about Rajat @ Rajat Ka Darbar on Rajat Tokas World Forums.