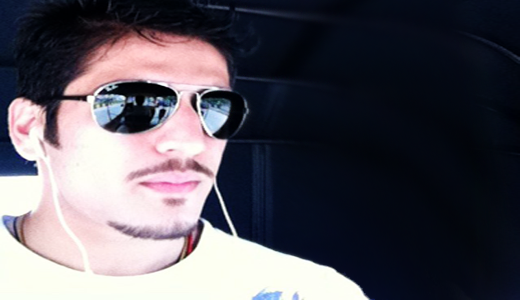 When it comes our people's heart-throb Rajat Tokas and then his Official Fansite Rajat Tokas World, there's only one thing which people say- "Yeh Dil Maange More". Rajat Tokas World, Rajat Tokas' Official fansite once again interviewed Rajat Tokas and put forth some questions asked by his fans on Rajat Tokas World. As every time, Rajat was more than glad to answer the question. His each answer came with a pinch of philosophy and a wave of love for his fans. Here is the entire interview conversation:
Ques: By Tuhina: Any lesson you have learnt in life while spending all these many years in this world of show bitz since that small age???
Rajat's Answer: Many and still learning. The most important of them being, all people are equally important. Never underestimate anybody and treat everybody with equal respect.
Ques: By Megha01: in what spirit do you take up the criticisms and bashing coming to you from the outsiders? And what is it that inspires you to achieve something in life and keeps on motivating you?
Rajat's Answer: Everybody has an opinion and everybody is correct according to his/her mindset. I just take criticism positively and try to improve upon things I do.
Ques: By rajatiscute: Rajat who or which thing motivate you a lot in your life?
Rajat's Ans: So many people.. It would be inappropriate to mention just a single name
Ques: By Neha Mehto: If u had free time then how would you like to spend it with your fans?
Rajat's Ans: I will try to make them all sit in front of me and let them observe the kind of person I am.
Ques: By Hina: 4. Rajat apni koi bhi good memories or bad memories bataye zaiada nahi tu ek good or ek bad memories bataye?
Rajat's Ans: Well so many.. I should rather write a book and tell you all about it.. (He Laughs) But to mention any good memory will be a day on my sets and bad will be a day off work.
Ques: By Hina and Sanam: You've so many fans from Pakistan. Any message for them?
Rajat's Answer: A Hi to all. I will try to entertain you all till the best of my ability. Please keep faith in me so that I can keep entertaining you all.
Ques: By Antra: What qualities do you find in your life partner?
Rajat's Answer: I am not finding a partner right now. And if I start finding one it's gonna be a search in itself because there are so many things that I don't know which I would want in my life partner.
Ques:By Antra and Mansi Kaushik: How was your trip to Macau? What was your most memorable moment in Macau?
Rajat's Answer: I was good. I slept in my room the whole day and chilled out with my Tere Liye family at night. We partied too!
Ques: By Rafia. Which was your favourite moment in Tere Liye which you will cherish? Why?
Rajat's Answer.: The last scene of confession. I will remember it because, I knew it was the last scene and I wanted a memory of lifetime related to Tere Liye.
Ques:By shweta: What do you think is your biggest strength?
Rajat's answer: My passion for acting.
Ques: By Antra: Does your personal life suffers because of your professional life?
Rajat's Answer: At a personal level no. I don't think there is any suffering because I love what I am doing.
Ques: When you visit Rajat Tokas World, what are the general things you look out for?
Rajat's Answer: I browse through different posts and replies in Darbar and see what more do people know about me.
Ques: Any message for your fans on RTW?
Rajat's Answer: I entertained. I am entertaining and will keep on entertaining.
This brings the end of yet another candid interview with your eye candy Rajat Tokas. Stay tuned to Rajat Tokas World for any news related to Rajat Tokas.
Wanna know about him or discuss about him? Do it @ Rajat Ka Darbar only on Rajat Tokas World.