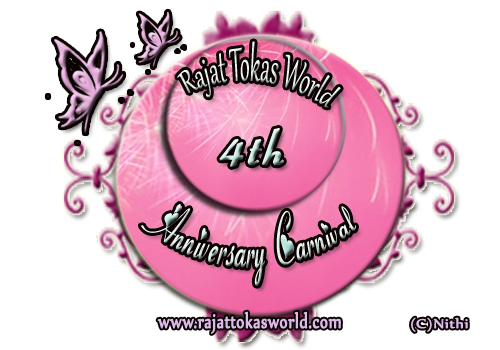 Hello All, I'm sure everybody's missing their real heart beat Rajat Tokas on-screen more than ever before. I know anticipation has reached its peak, but the day isn't far when we will see our favourite star Rajat Tokas once again on-screen with speculations of his appearance in Ekta Kapoor's ambitious project on Jodha Akbar.
It gives me immense pleasure in declaring today that Rajat Tokas World, Rajat's official fansite is celebrating 4 glorious years of its launch today. We thank all Rajat fans for being with us and Rajat all these 4 great years. We thank you for your love support and co-operation. Hardly any website made on an Indian Television actor might have received this amount of Historical support and response from fan-base and the website management conveys its sincerest gratitude for the same. To celebrate the completion of 4 years and the commencement of the 5th year of our existence, we have an Anniversary Carnival on RTW. You can view all the happenings in a dedicated board to carnival here:
http://rajattokasworld.com/smf/index.php/board,26.0.html
Rajat Tokas World had been opened with only one prime motive-i.e. bringing fans closer to Rajat. At the end of 4 years of our existence we hope that we've been successful in our endeavour and we will continue our efforts for the same in the coming years too. We hope that we continue to receive your love and togetherness in all our future endeavours  And we as Rajat's Official Fansite shall try even more to get more of Rajat to you.
We hope that you continue to have a great time on Rajat Tokas World.
Regards,
RTW Management.